HISTORY
---
History of the Workers' Compensation Court of Existing Claims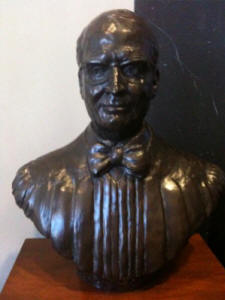 Denver N. Davison
1891-1983
In honor of the memory of one who, while in their service as justice of the Supreme Court from 1937 to 1978, gained great respect and affection by his profound knowledge of the law, wisdom of its application and by his unswerving commitment to evenhanded fairness to all people.
The Oklahoma Legislature enacted the state's first law governing workers' compensation more than a century ago in 1915. The law provides a substitute remedy to an employee for accidental injuries received during covered employment without the burden of proving negligence. The law is intended to provide injured workers with compensation for disability and health and rehabilitation benefits as a result of a work-related injury, regardless of who was at fault. In exchange for liability without fault, employers are provided with exclusive remedy protection. Exclusive remedy protects employers from liability to injured workers under laws other than the Workers' Compensation Code, Title 85, Oklahoma Statutes. The law applies to almost all types of employment and to both accidental injury and occupational illness.
Until 1959, the responsibility for administering the workers' compensation law resided with the State Industrial Commission. In 1959, the Oklahoma Legislature created and transferred jurisdiction over workers' compensation to the State Industrial Court. In 1978, the five-judge State Industrial Court was replaced by a seven-judge Workers' Compensation Court. The composition of the Court was expanded to eight judges in 1981, to nine in 1985 and to ten in 1993 and is now down to four. Like its 1959 predecessor, the Court is a court of record responsible for determining claims for compensation, the liability of employers and insurers, and any rights asserted under the workers' compensation laws.
The mission of the Workers' Compensation Court of Existing Claims is to provide fair and timely procedures for the informal and formal resolution of disputes and identification of issues involving work-related injuries. To this end the Court dedicates itself to carry out this responsibility and to serve the public promptly, courteously and impartially.